Split is one of the most difficult maps to master in Valorant.
Split is a large map, with a distance of about 10 meters between the two Spike sites. It is complex and difficult to master, requiring a good knowledge of the area to spot and trap your opponents.
Defenders are particularly tested on Split. A mistake or defeat at a site means the rest of the team must travel a long distance to get back into the game.
The map strongly favors defenders, especially if they have two skilled Sentinel agents; because of the narrowness of the entrances to the Split sites for attackers, a well-placed trap or thrown smoke can really help you control the map.
Finally, because the two sites are so far apart (as well as from the center), the Split defenders have another advantage: they can quickly reach either site from anywhere on the map (without the need to plant spikes).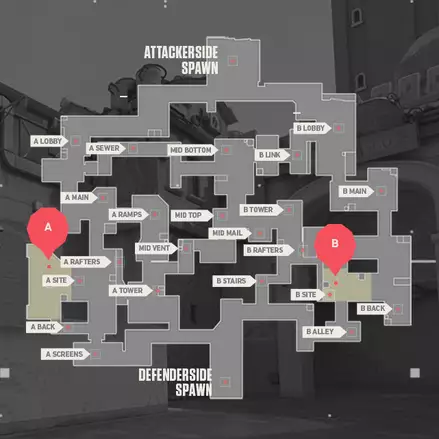 Split minimap – copyright Riot Games