Icebox is one of the less conventional cards in Valorant.
While it is quite similar to the other maps, the layout of this map is quite different.
The first site is wide open and has a unique theme.
Spike Site A is more difficult to pick up because of its interior design.
Site B is a wide open area with very little coverage and is easier to take because it is outdoors and open.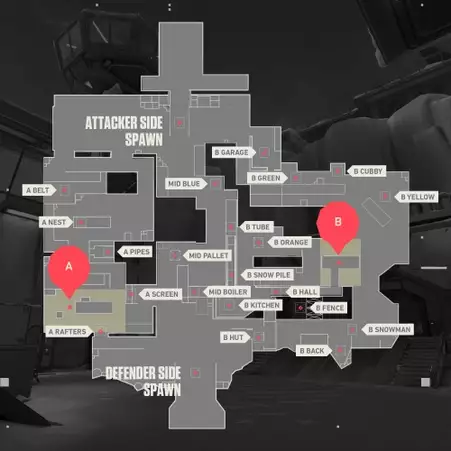 Icebox minimap – copyright Riot Games
Many players find this map boring due to its lack of variety in architecture and play style, but Icebox poses some very interesting challenges for defenders at a high rank. You have to be smart with your smoke grenades or you will lose as a defender every time, despite the strategic options to rotate players to different positions during the turn.
Icebox is a great map for ranged combat, but it can be difficult for attackers. Consider using short-range weapons.
Icebox, undoubtedly, stands out as a highly intricate and formidable battleground within the gaming realm. Despite its formidable challenges, this map possesses a captivating allure that unfolds once one conquers its complexities. Unlocking the mastery of Icebox unveils a world of enthralling gameplay and boundless possibilities.