Power up your deck with the best Royal Tournament decks recommended for winning the May 2022 Royal Tournament. The Royal Tournament returns in May 2022 with a host of rewards for the most strategic and effective players on the battlefield.
The Clash Royale tournament is back! And it's free.
That means you can join and play for as long as you want, until Tuesday, May 22, 2022.
You'll get free rewards if you reach 12 wins and other rewards including a legendary King's Chest if you spend 500 gems to discover and obtain its contents!
Please note: You can only lose 5 times during the tournament, otherwise you will not be able to participate. All the more reason to go with the best decks possible! Despite some changes in card balancing at the beginning of February 2022, the meta remains largely the same as usual: spam decks in the deck remain strong , heroes also remain heavily used.
Rewards:
The top 100 in the tournament will receive an exclusive emoticon and 100,000 gold bonus!
Number of wins Free rewards 500 gem rewards
1) 2 common exchange tokens Legendary joker
2) 10 gems 10,000 gold
3) 2 epic trade tokens 5 epic joker
4) 1 chest key 1 epic chest
5) 2500 gold 10 000 gold
6) 2 rare exchange tokens 25 rare joker
7) 15 gems 1 giant chest
8) 1 chest key 10 000 gold
9) 2 legendary exchange tokens 25 joker rare
10) 2500 gold 1 legendary king's chest
11) 10 000 gold
12) 1 lightning chest 100 common joker
13)
1 chest key
14)
10 000 gold
15)
magic chest
1)Fireball bait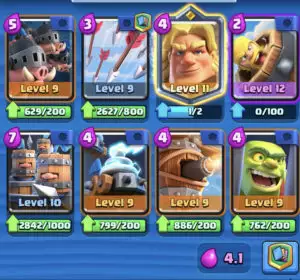 Royal Pigs
Arrows
Golden Knight
Barbarian Fut
Royal Recruits
Zappies
Fighting Machine
Goblin Cage
2)Skeleton King Mortar Cycle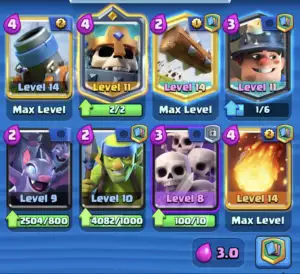 Mortar
Skeleton King
Log
Miner
Bats
Spear Goblins
Skeleton Army
Fireball
3)Skeleton King Splashyard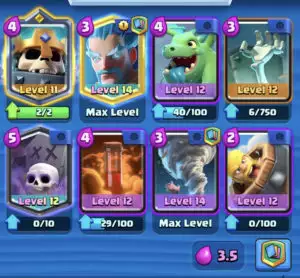 Skeleton King
Ice Wizard
Dragon Baby
Gravestone
Graveyard
Poison
Tornado
Barbarian Barrel
4)Archer Queen Royal Giant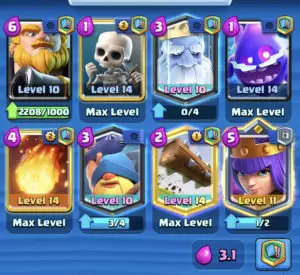 Royal Giant
Skeletons
Royal Ghost
Electrospirit
Fireball
Fisherman
Log
Queen of the Archers
5)Miner Rocket Cycle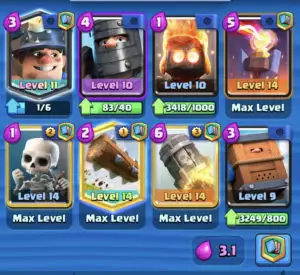 Minor
Dark Prince
Spirit of fire
Tower of Hell
Skeletons
Log
Rocket
Royal Package